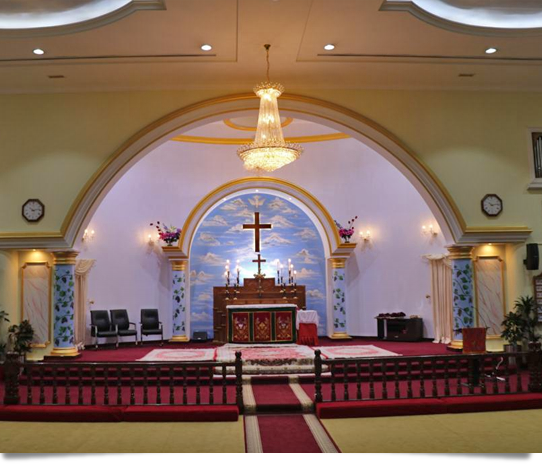 History of our Worship Service


The beginning of our Worship Service in Doha can be traced to the assembly of the Mar Thoma community in the residence of (Late) Mr. K. A. Mathew (of Kuzhuvamannil family) in April 1967. They decided to invite Rev. M. O. Oommen of the then Vicar of Kuwait Marthoma Church to travel to Doha for conducting a Holy Communion Service. Rev. M. O. Oommen accepted the invitation and conducted the first Holy Communion Service in Doha, at the residence of (Late) Mr. K. A. Mathew. Later on, the Marthomite community in Doha requested permission to start a Parish which was duly approved by Thiruvalla Sabha Headquarters after 18 months.
(Late) Rev. D. Alexander, the then Vicar of Kuwait Mar Thoma Church, was assigned the task of conducting worship services in Doha once in 3 months. The Marthomite community continued to grow steadily and when (Late) Mr. K. A. Mathew left Qatar, venue of the worship services was moved to the residence of Mr. John Mathew. Later the Vicar of the Bahrain Mar Thoma Church was assigned the responsibility to travel once in a month to take care of the spiritual needs of our people in Doha. It is to be noted that Most. Rev. Dr. Philipose Mar Chrysostom Mar Thoma Valiya Metropolitan is the first Bishop of Mar Thoma Sabha to visit Qatar / Doha Mar Thoma Parish on 7th June 1968.
First Church building at Al Bida


Places of our worship services were centered mainly in the Al-Bida area of Doha, as this was the central location where most of our members were residing. Our place of worship in the Al Bida Area was literally a "Cattle Shed". It was rented some time during 1972 and had no roof, as the place was used for keeping sheep and goats. Although the area was cleaned properly the stench of sheep remained in the air for a long time. Our worship was held in the open area which had a small covered Varandha on its sides. There was a small room on the rear side with a compound wall around. Worship services were held on Sundays during the evening hours. The Vicar from Bahrain Mar Thoma Church continued to visit once in a month and conducted Holy Communion services.

The last Bishop to conduct Holy Communion service in this first primitive church building at Al Bida was (Late) Rt. Rev. Dr. Alexander Mar Theophilus Suffragan Metropolitan (our former Valiya Metropolitan Most. Rev. Dr. Alexander Mar Thoma). It was on 14th July 1978.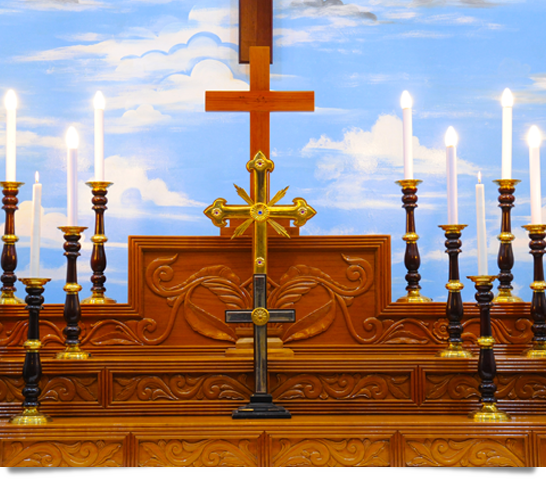 Second Church building at Al Bida


As the first church building came under demolition during 1979, we were forced to look for another place for worship service. At that time, one of our members living at Al-Bida, Mr. John Thomas, who was fondly known as "Gyhani", offered the open are of his spacious villa for using it as a worship place. A shed was constructed in the open area of his villa and it was consecrated by (Late) Rt. Rev. Easow Mar Timotheos Episcopa. We had only limited facilities such as light and fans with a cement floor and there were no air conditioners. Worship services continued smoothly at this place without any difficulties. During this period, famous Evangelist Brother Dinakaran visited Doha and held Evangelical Convention at this place. A very large number of people from different Christian communities in Doha gathered at this place to hear the word of God and to see his healing ministry. Some time after the convention of Brother Dinakaran, we were denied permission to use this place and were forced to vacate the premises.
Third Church building at Al Bida


During this difficult moment when we lost the place of worship, three of our members (Late) Mr. M. J. Abraham, Mr. Varughese Mathew and Mr. M. T. Thomas, voluntarily offered their residences for prayer and worship. We accepted their offer and continued our prayer and worship on Sunday evenings. While continuing the worship services for a few months, it came to our attention that a very large building with a spacious compound was available at Al-Bida area. It was previously used as Club House for a company in Doha. It was in 1980, when Rev. I. C. Philip was the Vicar in Charge, we constructed a new shed in the open area of this villa and worship services started once again for the Marthomite community. As in the past, we had only lights and fans in this shed and there were no air conditioners. It is worth mentioning that the road in front of this Church building at Al Bida was later named as Al-Aqsa road by the authorities.

Our worship services suddenly came to a stand still during April 1988 when four of our Members, Mr. C. V. Ooomen, Mr. P. C. John, Mr. K. C. Mathew and Mr. Varughese Mathew came under detention and were released after 9 days. During this period, whole Marthomite community in Doha prayed for them and specially set apart one Friday to pray for their deliverance. Gripped by fear of adverse consequences, there was no gathering for prayer or worship for the next 6 months period and nobody was willing to take over the responsibility of running the affairs of the Church. During this difficult period, we were like sheep without a shepherd. But our members continued to pray very earnestly and did not discontinue payment of Rent of the Church building at Al-Bida.

When the future of the church activity was uncertain, one of our members Mr. V. K. Varughese boldly took the initiative to bring Rev. T. K. Mathew from Bahrain and took the leadership to restart our worship at the same place once again on 4th November, 1988 after a break of six months period. Mr. V. K. John and Mr. M. T. Thomas volunteered to serve as Lay Leaders and they took care of the responsibility of conducting ordinary worship services, during the absence of a priest. The contribution of (Late) Mr. M. J. Abraham is commendable and is to be greatly remembered in the various spheres of our worship activities. From then on our activities proceeded normally and the Marthomite Vicar from Bahrain continued to visit Doha once in a month for conducting Holy Communion Services.

As our members grew in number, we decided to request for a full time Vicar, who could live in Doha and serve the spiritual needs of the Mar Thoma Community in Doha. This request was approved in 1992 by the Synod of the Mar Thoma Sabha and we were allotted a full time Vicar for the first time in the history of the Mar Thoma Church in Doha. The first full time Vicar to serve the Mar Thoma Church in Doha was Rev. Charlie Jones.
Fourth Church Building at Al Bida


As years passed by, the structure of the shed we constructed at Al-Bida began to deteriorate due to extreme climatic conditions and its renovation became un-avoidable. One night when nobody was inside, due to heavy rains, a part of the area usually occupied by the Choir members almost collapsed to the ground. The landlord was informed and we put forward to him two suggestions.

(i) Landlord may renovate the building on condition that we will pay a higher rent.

(ii) We will renovate / construct a new building, provided landlord adjusts the cost in monthly rental payments.

Sheikh Faisal bin Salman Al Thani agreed for the second option. Our General Body unanimously approved it and a Building Committee was constituted for collecting funds from our members for the project. All our members generously contributed without any hesitation and the construction of the new Church Building was started in the Al Bida area on 3rd March 1996 and was completed on 3rd May 1996.

It is to be mentioned that we were able to complete the entire work within a period of two months due to the dedicated effort of Mr. Joseph Samuel, the then Vice President of the Mar Thoma Parish. He and (Late) Rev. T. P. Koshy, our Vicar at that time, took time and remained at the work site for long hours to supervise the entire works.

This new beautiful Church Building at Al Bida Area in Doha, was consecrated by the then Mar Thoma Metropolitan, (Late) Most Rev. Dr. Alexander Mar Thoma Meropolitan on 10th May 1996. Unlike in the past, this building had very good Air Conditioning facilities with good Sound System and our worship service and other activities became very comfortable.

It is to be remembered with gratitude, that the entire cost of the construction of the Church building at Al Bida, has been refunded to us by the landlord Sheikh Faisal bin Salman Al Thani, by adjustments in the monthly rental payments. As developmental changes took place in Doha, the beautiful building we constructed at Al Bida in 1996 also came under demolition. The last Holy Communion Service conducted at this church was on 25th April 2003 by Very Rev. A. C. Kurian, who was visiting our Parish at that time. The worshipers left the place on the last day, with a very heavy heart but continued to pray earnestly.


Worship at Doha College Indoor Stadium


On losing our 4th Church Building at Al Bida, we approached Doha College Management, for permission to use their indoor facilities for worship activities. By the Grace of God, they readily agreed for it at a nominal rent and we started our activities at Doha College from Friday 2nd May 2003. It continued till 29th August 2008. However, permission for using the facilities at Doha College was withdrawn by the Management from 1st September 2008, for some unknown reasons.


Worship at St. Mary's Orthodox Church


When worship at Doha College was stopped, we approached the different Churches in Doha for permission to use their facilities for worship services and almost all of them expressed their inability to approve our request. Only St. Mary's Orthodox Church granted our request and we started our worship at St. Mary's Orthodox Church from September 2008 onwards. We were given permission to assemble at this place for worship on Thursdays and Fridays from 19.30hrs onwards.
Fifth Church building at Abu Hamour


Meanwhile the Government of the State of Qatar has granted permission to construct churches for the Christian Communities in Doha. The Land for it was allotted at Abu Hamour area and it was handed over to the Indian Community by Qatar's State Minister for Foreign Affairs on 5th December 2005. Foundation stone of the Mar Thoma Church was laid, by our Diocesan Episcopa Rt. Rev. Dr. Zacharias Mar Theophilus Saffragan Metropolitan, on Friday, 23rd December 2005.

Funds were raised for the church construction through the generous contribution of our Members, well wishers, by hosting Music Concerts, by conducting sale of food items, by auction of various gift items from Members, and by contribution from various organizations of the parish.

Regarding the the new Church at Abu Hamour, we would like to mention with gratitude the important role played by (Late) Mr. David George, in the early stages of discussion with the Government. Mr. David George was our co-ordinator at Inter Denominational Christian Churches (IDCC) and had rendered invaluable assistance to the Parish on various occasions. His death on 12th October 2004, after a minor surgery at Vellore Medical College was an irreparable loss for us. Subsequently Mr. K. C. Cherian, Mr. Varghese Mathew and Mr. George Mathew were appointed as Coordinator of IDCC representing our Church.
Our former part-time Vicars who commuted from Bahrain
Our former full time Vicars
Prior to the approval for full time Vicars, under mentioned Priests served as Vicars of the Mar Thoma Church in Doha, with their base in Bahrain.
| | | |
| --- | --- | --- |
| 1. | (Late) Rev. K. S. Varughese | From 1969 to 1972 |
| 2. | Rev. K. M. Varughese | From 1972 to 1975 |
| 3. | Rev. George Zacharia | From 1975 to 1978 |
| 4. | (Late) Rev. I. C. Philip | From 1978 to 1981 |
| 5. | (Late) Rev. Joseph M. Joseph | From 1981 to 1984 |
| 6. | Rev. Scariah Abraham | From 1984 to 1987 |
| 7. | Rev. T. K. Mathew | From 1987 to 1990 |
| 8. | Rev. T. T. Thomas | From 1990 to 1992 |
| | | |
| --- | --- | --- |
| 1. | Rev. Charlie Jones | From 1992 to 1995 |
| 2. | (Late) Rev. T. P. Koshy | From 1995 to 1998 |
| 3. | Rev. Prasad Ponnachen | From 1998 to 2001 |
| 4. | Rev. Thomas Varughese | From 2001 to 2004 |
| 5. | Rev. Abey K. Joshua | From 2004 to 2007 |
| 6. | Rev. T. M. Jacob | From 2007 to 2010 |
| 7. | Rev. Mathew Zachariah | From 2010 to 2013 |
| 8. | Rev. V. P. Philip – Asst. Vicar | From 2009 to 2012 |
| 9. | Rev. Shibu O. Plavila - Asst. Vicar | From 2012 to 2015 |
| 10. | Rev. P. S. Yesudasan | From 2013 to 2016 |
| 11. | Rev. George John - Asst. Vicar | From 2015 to 2018 |